Patch 6.7 In Depth Guide to Crushing Toplane with Darius
Darius
BY GoldenScarab569
Table of Contents
Author Champion Statistics
Guide Details
Passive

1

4

5

7

9

2

14

15

17

18

3

8

10

11

13

6

12

16
Starting Items
Core Items
Situational Items

Champion
Difficulty
Notes

Aatrox

This is a nice matchup for Darius, as Aatrox doesn't really have kill potential on you. Dodge his  and his  to make him lose health for free, then trade with him whenever possible. You can take  to make the lane even easier, just be careful when use  on him, as if he has his passive up you wont get the reset even if you kill him. Be careful when he activates  as it gives him range and Attack Speed, but by level 6 you should have put him far enough behind to not be an issue to you.

Akali

If you're facing  in the top lane she is usually going to build tank. Levels 1-6 you should absolutely destroy her. Use  to pull her in and she has no way to escape from you.  is great for stopping her running away. Make sure to always carry a  so that she can't use  to stop your ultimate from hitting.

Alistar

If Alistar is in the top lane, he'll probably be building AP. Be careful, he does a surprising amount of damage with  and  and once he hits 6 you don't have much kill potential on him as he can use to negate most of your damage. He has long cooldowns however so if he uses either  or  on you, walk up to him and  to start a trade. Be careful not to push the lane too hard as he has good CC to follow up or set up ganks for his jungler.

Cassiopeia

A good  will not let you get to her. The speed buff from  allows her to run away from you while  and  prevent you from getting to her. Your best bet is to try and kill her before level 6 because once you catch up to her, without flash she should be dead. Remember to quickly face away from her when you hear her hiss as there is a short delay between when she casts  and when it hits you. Once she gets  you'll basically never catch her if she doesn't misposition. I would recommend getting an early  or if you manage to kill her before level 6, .

Cho'Gath

 is a good counter to . He has sustain with , which means even if you trade with him, if you don't kill him he can heal up your damage, whereas you can't really do the same to him. He can disengage with  and  which will stop you from getting too many stacks on him.  is also easy to stack and with a reduced cooldown on killing minions means he will gain a lot of Health for free which counters your ultimate. On top of this, the items he likes to build,  and , are great against you. The only chance you have is to kill him early in the lane and get him behind, and keep that lead so he cannot build up his  stacks.

Darius

This situation will only occur in Normal games, and like any mirror matchup is entirely skill based. How well you do in this lane will come down to how well you dodge the Darius'  and how well you hit your own. Be careful if he runs .

Dr. Mundo

 Should have no troubles killing  in lane. Before he gets items Dr. Mundo is squishy, and whilst he can poke you down with Q, if he ever gets in range for you to  you should trade with him immediately. He's also immobile, and susceptible to ganks, so call for your jungler if you need help killing him. Once you both hit level 6, you can still kill him with  if he doesn't have items. If you manage to stay even in items, you will always be able to win the 1v1, but chances are he will just  you and run away to stop you killing him. Take  if you really want to kill him.

Ekko

Tank Ekko is something that's becoming quite popular in the toplane, and it's annoying to play against. In early levels Darius has the advantage, but a smart Ekko will use  to slow you and stop you from reaching him. Try to trade with him when he goes in to CS and  him if he tries to run. Try not to let him get 3 stacks of  on you or he will win the trade.  Does NOT cancel your ultimate, but the damage will not apply and  will not go on cooldown, you will just need to cast it again on . Try to save  until after he uses  as otherwise he will try to dodge the blade to deny your heal/stack application.

Fiora

This is a skill matchup, but I give the edge to . Make sure to avoid letting her hit  for free. She has to either  your  or  to win the duel. After you  her, wait a second to see how she reacts. If she immediately uses , hold onto your abilities and only start attacking her after the parry has ended. Otherwise, you know you are safe to use  immediately after . If you're even/ahead in items, build  as a second item so that she can't duel you when she hits level 6 and uses  on you.

Fizz

Fizz top is usually a tank build, relying on his base damages to deal damage. Don't trade with him in minions, as he takes reduced damage from your own due to . He can use  to dodge all of your skills, including . Don't try and  him as he will either  or  away. Try to trade with him when he goes for cs. If he misuses , punish him using  and getting as much damage down as possible before he uses  to get away. Make sure to always dodge  as it amplifies his magic damage. It's worth getting an early  and  so that you can fight him. 

Gangplank

 Scales better into the lategame than  does so it is important to try and shut him down early. He will try and poke you with  and proc Grasp of the Undying. If you manage to grab him, try to wait until he uses  before you use , as he will cleanse the slow from  but the 90% slow will still hit him. It's worth nothing that  does NOT remove the stacks of Hemorrhage you already have on him. Always avoid standing in his  unless you are trying to destroy them before he can.

Garen

 Is basically a worse version of you. He'll be tankier and do more damage if he gets ahead, but you shouldn't let that happen. Levels 1-6 if her ever tries to trade with you useing  and  you can just tank the damage until the silence finishes, and then use  and  to keep him next to you, and  when he runs away again. If you become the villain, make sure to count for the fact that his  does true damage.

Gnar

A good  will never let you get to him. He can endlessly kite you with  and , and once he gets Frozen Mallet there's no way you will ever be able to catch him. If he wastes  in the early game, punish him by using  and forcing a trade with him. Once he transforms into Mega Gnar, it's easier to trade as he doesn't have the range advantage, just make sure not to stand near walls when he has  up.

Gragas

 Top is less common than Jungle, but it is still playable. In the early levels, his passive will prevent you from dealing too much damage to him with Hemorrhage. He can set up ganks well with  and takes reduced damage after using . If you ever do get within range to kill him, he can use  to throw you away and  to slow him. Geting early Magic Resist is crucial as he does a lot of magic damage. If you manage to get into a long enough trade with him early and dodge either his  or  you should be able to kill him. Take  if you want the extra kill pressure.

Graves

 Is an incredibly annoying toplaner. He can poke you continuously and  away from you if you  him. Once he gets  you will heal back up after any trade you take. As a first item get some defence so that he can't immediately kill you in lane. Try to trade with him when he has either one or no shots left, and get out of his  as quickly as possible. Make sure not to stand near walls and to sidestep  so you don't get hit by the return damage.

Hecarim

 Doesn't see that much play these days, but he's a strong toplaner who can be troublesome to deal with. He can spam  with  to do a lot of damage, and heals well off of . He can also dodge your  with  unless you time it correctly. However he lacks power in the early game, and runs into mana issues before he builds  and . This is your chance to pressure him, using  and  to prevent him from running away from you and using  as he escapes for the maximum damage possible. If he misjudges his damage you should be fine, as after using his combo he has no way to escape until  comes back up again.

Heimerdinger

 Is an oppressive lane bully who will constantly shove you in with , and make it very difficult to trade with him. If you ever do get onto him he can use  to stun you and run away. Try to kill his turrets when he goes to base and use the time when he gets back to lane when he doesn't have turrets down to fight him. He's also easy to gank and dive due to the fact that he pushes the lane constantly. An early  is excellent against him.

Illaoi

 Is annoying if she hits , but that's about it. Her  is very slow and very telegraphed which makes it easy to dodge. When she uses , just run out of her range and she can't do anything to you. A smart  will use  to dodge your   but if she sticks to you, as long as you avoid the tentacle damage she shouldn't outtrade you. Make sure to kill her tentacles as often as you can, as she loses a lot of damage without them. If she does hit you with , run out of the zone as quickly as possible, and play back until you have killed three tentacles. Just before they spawn run perpendicular to the direction of the tentacles smash to avoid the attack.  Has one big flaw which is you can look on the map and see her tentacles activate/spawn in the fog of war, so you effectively know where she it at all times.

Irelia

 Is also another annoying champion to deal with, but the edge goes to Darius in this matchup. Irelia does a nice mix of damage, but a large amount of her damage comes from  which is true damage. So building a  as a second item is great against her, as it gives both Armour and Health, as well as slowing her Attack Speed. If she gets behind you, it will be very difficult for to trade with you, as you can force her to fight you with . You probably won't kill her as if she ever gets in kill range she will just  you and run away. Respect her damage from level 3-9 and you shouldn't have a problem with her.

Jarvan IV

 Is seeing a bit of play in the top lane now, and he will try and poke you with  to whittle down your health. Don't underestimate his damage, as his all in power is extremely potent, especially once he hits level 6. If he goes all in and misses his - combo, he has no way to escape you so you should fight him as much as possible. You can cancel his - combo with  if timed correctly and he is trying to escape.  Outdamages  so you can afford to get a defensive item first back so he can't burst you down.

Jax

 Has a difficult time trading with  in the early game, as he can't match the damage that Darius puts out. If he tries to use  and stun you, use  at moment he stuns you to pull him towards you while you are stunned, and to minimise the time he has to run away. If he engages on you with  autoattack him and then use  straight after.  Him from range when his  is on cooldown and he won't be able to fight you until he has completed at least a . You can freeze the wave just outside of your tower range and deny him as many cs as possible to delay him from getting his core items. As the game goes on, you won't be able to duel him or match his splitpushing so it is important you suppress him for as long as possible and group with your team to gain advantages before he can become a lategame monster.

Jayce

 Is another very annoying matchup for  as he has many tools to prevent Darius from fighting him. If Jayce ever gets in range for Darius to  him, he can use Thundering Blow to knock you away, and Acceleration Gate to prevent you from getting close to him. He can poke you from range with Shockblast and Acceleration Gate, and once he has you low enough he can use  and  to finish you off. You should never get in range to damage him, so building defensively is the best bet in this lane.

Karthus

 Top is rarely played, but it is an easy matchup for . As long as you can dodge , you'll have no problems trading with him. Bait out his  and grab him with  once it ends. He's very squishy and can't deal with the damage you put out. Once he gets  you won't be able to catch him, but by then you should have enough of a lead that it won't matter.

Kayle

 Is one of the worst matchups for Darius. She can kite you with  and , and put out large amounts of constant damage with . When you hit level 6 she can completely stop you from getting resets with  by using  on whoever you try to kill, and it will put  on cooldown. She will mercilessly poke you in lane, your best chance is to ask your jungler for a gank as she will push the lane if she uses .

Kennen

 Is also another hard matchup for . He can poke you down endlessly with , and run away with  if you ever manage to  him. A - combo will put you at 2/3 stacks for a stun so Kennen can still disengage with an autoattack if he needs to. Unless the Kennen plays badly, you're going to find it very difficult to do any damage to him. Build defense early to try and survive his poke and farm up until the midgame.

Lissandra

 Is another champion that  has issues with. Unless Darius manages to dodge  from Lissandra he won't get close to her. Even if does use  and pull her in, she can still - away to prevent Darius from chasing her. After level 6 she can use  on you to prevent you from casting  as she escapes. Your best chance is to bait out her , and then while it's on cooldown,  her back in and trade.

Lulu

Good s will be able to stop you getting close to you or your target in teamfights. In lane she will try and  you through the minions as poke and whenever you try to run towards her. She can use  on you to prevent you from casting spells to heal yourself or to execute someone with . She can also use  on a target to either interrupt you with CC or to give them the extra health needed to stop  from killing them. Try and call your jungler to gank your lane as this is the best chance you have to beat her. Also, dodge  as often as you can and while it is on cooldown initiate trades with her.

Malphite

 Should never be able to kill you in lane, but chances are you won't be able to kill him either. If he starts  and 4  then you won't be able to kill him early. Try to avoid trading with him when he uses  as this reduces your Attack Speed and how fast you can stack up your passive. An early  on the first back means he can't kill you with  once he hits level 6. If he tries to make a  play botlane, try to interrupt him with , or push the wave as hard as you can to try and trade the tower.

Maokai

 Is another easy matchup for , as he has no real way to escape from you other than . Try to avoid using  when he uses  as he becomes untargetable.  If he goes in on you, run backwards slightly away from him to dodge , the autoattack him followed by . If he tries to run, grab him back with . You shouldn't really have a problem with  at any stage of the game.

Nasus

 Is weak early, before he can use  to get his stacks. This is when he's at his most vulnerable! Try not to push the wave with  as this is what he wants. Instead, freeze the wave just outside your tower and zone him away from the creeps. This prevents him farming and stacking his . If he goes too far up the lane to get creeps, go aggressive on him. Save your  until after he uses  and he is at the max range of the pull.  counters  due to giving him more Health but the bleed damage should be enough to kill him anyway if you are even/ahead and you have denied him stacks.

Nautilus

 Has incredible base damages and his  is an autoattack reset meaning he can hit you twice in quick succession. His  damage is misleading and will quickly add up. Once he casts  try and run towards him so as not to take extra damage from the other waves. Nautilus is very good at setting up ganks for his jungler so you must be careful not to push the wave too hard. Levels 1-3 Darius can push Nautilus around but if Nautilus blocks damage with his  he can outtrade Darius. A first item  can help with dueling as in extended trades Darius will do a lot of damage over time with Hemorrhage. 

Olaf

 Is one of a few champions that can outdamage  at level 1, provided he hits each of his . Whilst you are slowed, it's hard to hit your  as it is easy for Olaf to run out of your  range. He can deal a lot of damage to you with  and the lower his health gets the faster he can hit you due to . As long as you dodge his  you should be able to outdamage him. Building an early defensive item is a good idea so he can't burst you down while in .

Pantheon

 Is an oppressive laner who will spam you with  and try to finish you with -- when you are low enough. As long as you can survive the early laning phase long enough to buy some Armour and Health you should be fine. Sacrifice cs if you need to to stay alive. His  does block the damage from your  but it does not block the stack of Hemorrhage being applied.

Poppy

After the nerfs on 6.7,  Is an easy matchup for  as she has to get close to him to fight. Make sure to step off of her  to avoid taking damage from the explosion. Try to stay away from walls so she can't stun you using . If she pokes you with , try to run over to the gauntlet and challenge her over it so she has to either fight you or lose the shield. You can poke her with  when she goes in to cs, or you can grab her with  to start an extended trade. Once she hits level 6 she has a great way to setup ganks with -. Once she completes  it becomes hard to trade with her, so try to get an early lead.

Quinn

 Is one the worst lanes for  as she can poke him over and over until he's within kill range or has to go base.  prevents Darius from retaliating in any form as he can't see outside of a small area, allowing Quinn to autoattack him for free. If Darius manages to  Quinn, she can  away putting distance between her and him and allowing her to do even more damage due to the  proc. If Darius tries to  Quinn, she can also  away so that it doesn't hit her. You will need to call for ganks as you have next to no kill pressure on her, and she can push you into tower and poke you down. Try to build defensive so that she can't kill you in two or three combos.

Rammus

 Is easy in the sense that he will never kill you, but similarly you will never kill him. He'll stack armour during the laning phase so that any trades take will be inconsequential due to how little damage you'll deal to him. Either get the jungler early to help kill him, or push him into tower and try to roam to midlane/invade the jungle to kill the jungler to help your team.

Renekton

A good  should be able to beat  but it is a skill matchup. If he wastes his  on minions you can trade with him immediately. His  pushes the lane and also heals him so try not to get hit by it. If he uses --- on you, use  to pull him back towards you immediately and hit him with an autoattack followed by  and  to return damage.  counters  but he needs to build damage to keep hurting you, whereas you can build  and then tank and still be able to kill him.

Riven

 vs  is a skill matchup. Riven can use  to dodge  and win the trade, but if she wastes  or  Darius can  her and hit her with an autoattack and  and a  as she retreats. When fighting after level 6, when you have 5 Hemorrhage stacks on her, wait until she uses  and the shield has worn off before you cast . If she gets a lead in lane, build HP and Armour to stop her from completely rolling over you.

Rumble

 can keep  away using both  and , but if he mismanages his heat, he will overheat and get grabbed by .  does a lot of damage when overheated, so it important to get an early  to counteract the  and  he will buy. Try to predict where he will use  when fighting post level 6, being able to get off of  as quickly as possible is incredibly important as it does heavy damage and slows you, allowing Rumble to get more distance between him and you.

Ryze

Early game,  poses very little threat to . His  doesn't last a long time, and you can still easily pull him towards you with . It's important to hit him with  when his passive activates, as he will try to get as much distance between him and you when this happens. If he gets an advantage in lane,  is a great defensive item to stop him from constantly bursting you down. 

Shen

Dodging the  from  is crucial to winning this lane as it gives  more time to attack shen with spells. When he uses his , run out of the zone and either wait for the duration to run out, or  Shen out of the zone and start hitting him. Try not to ever stand between the Sword and Shen, so that it makes it difficult to hit you with . If Shen uses , try to either interrupt him with , or to shove the lane towards his tower immediately and trade the tower.

Singed

 Is an annoying champ, but not one that poses a threat to . The main thing to remember is never to chase him through his . If he wastes either  or  you can use  and autoattack him immediately followed by  to slow him, then hit him with  as he backs off. It's important to end the trade after you hit  so that you don't take more damage from the poison before you can heal it back up with  again.

Sion

 is annoying as he can stack Armour without needing to stack Health due to . He can also stop you from fighting him with  and  so even if you can outtrade him, he won't let you. The shield on  can mitigate a lot of your damage, so it's best to play this lane as a farm lane, and ask for your jungler to help kill him, as he can outpush you. If you manage to interrupt his  with  you will win the trade though.

Swain

Another easy matchup for , as he can grab  even whilst he is rooted. Swain will harass Darius early, but if Darius can survive the harass and pick up a  then he can all in Swain and kill him before level 6. Make sure to take  in this lane to reduce the healing Swain receives during .

Teemo

 is one of  worst matchups. He will poke you over and over with  and , and use  whenever you get close to get away from you. At level 6 he will kite you through his  to keep you slowed and allow him to whittle you down with autoattacks. Once he finishes  there is very little you can do. Even if you manage to grab him he will use  to prevent your  from applying the slow and kite you. Unless you get a lead at levels 1-3 there is very little you can do. Ask the jungler for ganks because you won't be able to catch him otherwise.

Trundle

 Is a hard matchup for  as he can outduel Darius at all stages of the game. Early game, Trundle can use  to reduce the effectiveness of  and . He can also use  to block escape paths and force Darius to fight him. If Darius is unable to kill Trundle in an all-in, Trundle can heal back the damage done with  and . Post level 6, if Darius is unable to execute Trundle with , he will heal back most of the damage with  and outtrade Darius. Even taking  doesn't guarantee you'll be able to kill him. Ask for help from the jungler if you want to kill him, otherwise you'll need to get ahead by roaming or with  ganks.

Tryndamere

 poses no threat to . In the early game, he's weak enough that you can zone him off the wave, as he will lose any trades he takes with you. If he uses  to engage on you, feel free to hit him with autoattacks, and save  for when he tries to run. Once you hit level 6, either bait out  but going all-in and holding onto , or count for 5 seconds after the activation, making sure you hit him at least during the duration of  to keep all 5 stacks active, and then use  just as it is about to end. The longer the game goes, the stronger Tryndamere will get, so it is important after putting him behind to help your team take objectives to win the game quickly.

Vladimir

Another easy lane for ,  doesn't pose any threat to Darius until he finishes . Get a  first back and finish  as quick as possible to survive his damage, as he will try to poke you in lane. If you grab him with , he will use  to get away from you, wait until he surfaces to use  or you'll encounter a bug where you try to autoattack him as he goes into pool, and you get locked in place and can't follow him.

Volibear

 Has no issue laning against . He can easily hit him with  and can prevent him from running away with  by using  and . Once Volibear has 3 stacks of , Darius can hang back until Volibear uses  or the stacks fall off. Getting Health and Armour early is useful as it prevents Darius from being killed, but doesn't massively affect how easily Darius can kill Volibear with .

Wukong

A smart  will be able to bait  into wasting abilities on the clone through clever use of . If Darius manages to grab Wukong and trade with him using  and  he will win the trade. Make sure to carry a  so that when you try to execute Wukong with  it doesn't get cancelled. Build  into  so that you can survive the damage from rank 2 .
Hi, I'm GoldenScarab569, a Platinum 5 Darius main and I've played over 300 combined games with Darius in since the beginning of Season 5.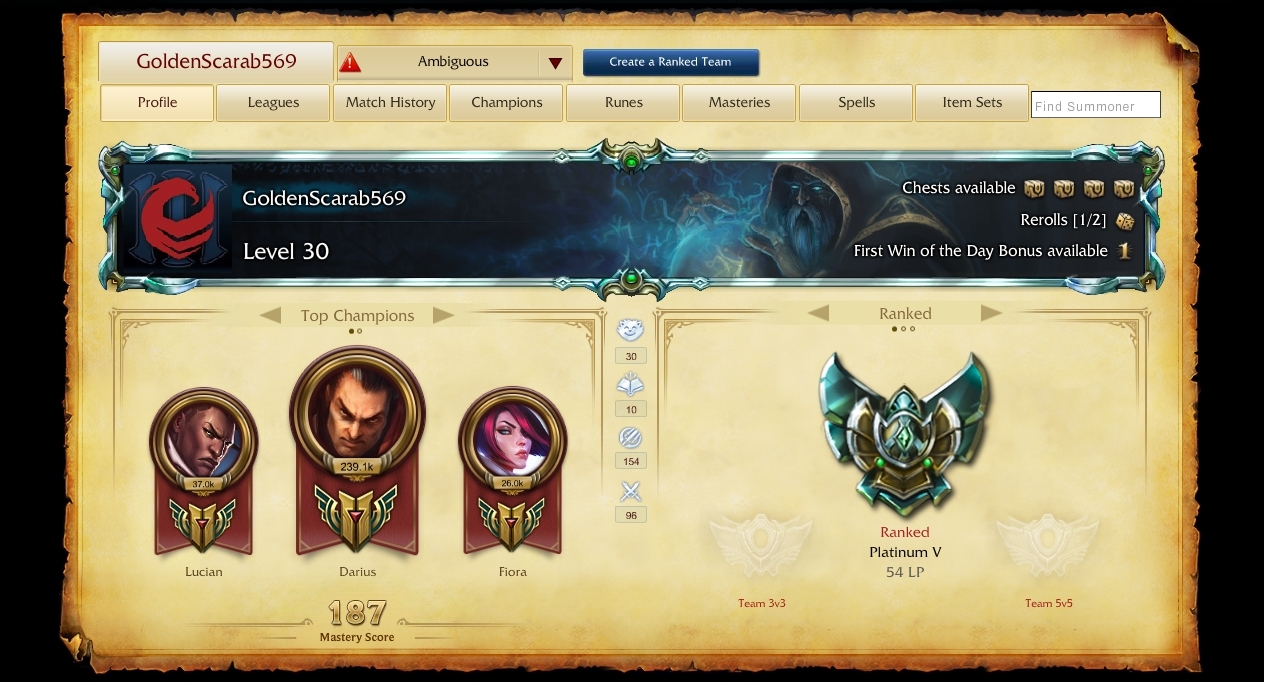 Thanks for reading my guide, any advice or criticism would be appreciated :)!