Gems Are Truly Outrageous: Taric Support Patch 6.7
Author Champion Statistics
Guide Details
Passive

3

14

15

17

18

1

8

10

12

13

2

4

5

7

9

6

11

16
Starting Items
Core Items
Situational Items

Champion
Difficulty
Notes

Alistar

Alistar is a pretty hard matchup because what you do, he can do the exact same thing but he has to be in melee range to do it. If he  combos your AD  the enemy AD because if you  him, he will just  and one of you guys will die. Take  in this matchup, and bait out  combo. Than counterengage if you still have  and the only thing Alistar can do is watch. This is hard still because late game he has amazing engage that is very hard to deal with as well as innate tankyness which makes him hard to kill.

Ashe

Ashe is a hard match up due to her kite-ability. Basically this means that you have stunning Ashe, let alone walking up to her. Her  slows you so you cannot get in range of her. Her  also stuns and slows you to make it even harder.  I recommend that you stay in the bushes in this match up, and make sure you place fairly deep wards so you cannot get punished for not having an escape, or a lot of crowd control. I would place a ward by mid lane and in the tri-bush so you have enough notice to retreat if you see the enemy jungler. An

Bard

Bard is marked as a hard matchup due to his insane poke in lane against melee supports with his auto attacks and his , as well as his  to disengage when you  a target. Against bard, i recommend you try to engage on the enemy marksman when bard goes to collect chimes. This will make it so he is not in position to back up the marksman and will atleast force summoner cooldowns. Otherwise, just ward and wait for them to make a mistake, and when they make a mistake capitalize on it with  burst damage.

Blitzcrank

Blitzcrank is marked as a medium matchup because of blitzcranks ability to snowball lanes if he lands a . If he fails to land a  take advantage of it and go in for trades with  but if he hooks your marksman the only think you can really do is  and try to help your marksman get away. If you make it past early game without falling behind it is considered a win because of the massive teamfight pressure you will have with your  and . You can win lane as well just only engage if his  is on cooldown and make sure you ward bushes so he cant  you without vision.

Brand

Brand is a pretty hard matchup for almost any support due to his  combo doing a lot of damage as well as his passive. In order to win this lane try not to get all inned early and also try to engage on him with  if his  is on cooldown. This will make it so you can atleast win the trade fairly easily and you cannot get slowed or stunned. Make sure that you get   in this matchup fairly early.

Braum

Braum is a pretty easy matchup besides the fact that he can  your . I marked him as easy because you are pretty tanky early game which means that if the enemy jungler doesnt gank you, you should not really die in this matcup. Just engage on the enemy marksman to force  and your marksman should be able to win the trade if you  him and  the enemies. Make sure you ward so you can roam a little bit but otherwise as long as your marksman doesnt get caught out alone you should be fine. 

Caitlyn

Caitlyn is annoying due to her large auto attack range. She can poke you quite easily but if you  her she cant get away from it and you basically auto win the trade. Just watch out for stepping on  and  on her lategame if your team is in position. This lane is pretty fun and as long as the enemy isnt a  you should have a little bit of kill pressure. If she 's poorly try to capitalize on it and  her poke.

Corki

Corki's laning phase is pretty easy to outplay because he only wins lane if he can land  and  just dodge these abilities, and  up. One issue with corki is that he deals a lot of magic damage so get  fairly early on, and dont feel forced to max  in this matchup. You may want to max  and try to kill him if you see the opportunity. Watch out for his  (i mean the package) and if he uses it poorly make sure to capitalize on it.

Draven

Draven is a pretty easy matchup due to him having high damage early game. Your  really helps in this matchup, and should only be used if he does not have a . Try to  him after he autoattacks so he cannot pick up his . Also take  in this matchup as he does not do to well against it. Engage on him if his support isnt there and if you dont fall to far behind you should be ok. Dont be scared to ask for jungler ganks as if you shut down  its a pretty free win.

Ezreal

Ezreal is a fairly easy lane EARLY GAME. bit his lategame is quite an issue for almost every support due to . Try to  when his  is on cooldown, and heal the harass from his . In this matchup take advantage of him when he only has  by forcing fights as long as you have decent ward coverage. If he is even with you thats an issue so dont be afraid to zone in the lane bush if your marksman has a  advantage. He is quite squishy so you can all in to force  pretty easily.

Graves

Graves is an easy matchup due to his short range. Just try to abuse the fact that he can only auto twice without reloading and try to not get pinned against a wall for his . His  is pretty disruptive so if you  him try to watch out for it, or you may be put in a stick situation. Watch out for his burst with  by taking  and just wait till your ADC has an advantage or a powerspike to engage. Take short trades in lane so you dont get bursted this means ->AA->->AA, and than run away.

Janna

Janna is really anoying to lane against because she makes it impossible for you to actually get to the enemy you want to engage on by using her , her , and her . She is quite squishy though so either engage on her if she is trying to auto attack you, or engage on the enemy adc when her  is on cooldown. You can also engage on her or her adc if they are alone. Just be careful about getting kited and poked while you try to walk up to them to get a  off. Just peel late game and it is a pretty even matchup.

Jinx

Jinx is marked as medium in my opinion because she has advantages and disadvantages to laning versus taric. The advantages are her long range with , her slow with , and her zoning potential with . If you engage when she 's to gun form you may be able to win the trade but her rocket form is way to long. Her disadvantage is she lacks an escape besides her passive so if you  her, you should be able to do decent damage to her as long as you dont get counter engaged on or ganked.

Kalista

 is the reason why Kalista is a pretty hard matchup. I recommend that you  her when you dont have many  stacks on you. This will make it so you can easily win the trade because she will be forced to attack you instead of starting from 0 stacks of  on your marksman.  is key to winning this matchup as it completly shuts her down and dont engage to hard on her support after she is level six due to .

Kog'Maw

Kogmaw has some extreme health shred on tanks due to his . He also makes it very hard to get to him due to his , and the range increase on his  sure doesnt help. I recommend that you engage on him when his  is on cooldown. He does not have any escapes so he is quite easy to engage on lategame with , but your stun only lasts 1.6 seconds so make sure you have followup.  is very good versus kogmaw.

Leona

Leona does a lot of damage with her , her . Basically her entire kit helps with killing your ADC. To avoid this take  for sure and if she lands  on your ADC, simply just  the enemy adc and  with auto attacks. This will allow your ADC to counter engage and make it an even trade or favor it towards your team because you can  up the damage taken. Just try not to fall behind because if you do you are screwed and make sure you ping whenever Leona is roaming.

Lucian

Lucian has a level 2 powerspike where he will almost always try to  ->AA ->  ->AA. This means that as soon as he 's in assuming your level 2,  him and just watch as he loses the trade. Dont go to far in because it will allow him to  you, but the 200-300 damage that you will do in that trade will make him respect your damage. Especially since it can happen multiple times every time he goes for a . Just block  late game if needed or just  him to cancel it. Be careful in laning phase and you should do fine.

Miss Fortune

Miss Fortune is an easy matchup due to all of her damage being off of her abilties basically in lane phase. Make sure she does not crit you with her , and  her  if it does not put you so far out of position. She is pretty weak right now which makes this lane pretty easy if she does not snowball from early kills. Just  her poke and wait to engage till you either see an advantage or your jungler is there.

Morgana

I dont need to say much about this matchup other than  is over powered versus taric. She can just  whoever you , so if a gank is coming just force her  prior to it or on the target you arent focusing. She will likely only get one point in  for early game so if you get 2-3 points in  and with your  , your  will have a way shorter CD (like 10 seconds) that you can take advantage of. Late game if she  just  her so your team can get away.

Nami

As long as you dont get caught by her  you should be ok. Also try not to be kited to hard when she 's as whoever it is effecting will slow you when they auto attack you. She is quite squishy so you can all in her by 'ing her pretty easily. Just take  as well unless the enemy marksman is  and take advantage of how squishy and low range she is.

Sivir

The only reason this matchup is hard is due to  and . If you engage on her when  is on cooldown you should be perfectly fine. Just dont get his from both directions of her  and dont stand in the minion wave for her . If her  is not on cooldown flank her, and try to force her spell shield has your  is very hard to predict from melee range.

Sona

Her poke is a little annoying, but not super hard to deal with due to your . If she walks up to try to sneak in a  after you are level six all i her with . Take  in this matchup and just kill her since she will be super squishy at almost every single stage of the game.  If her  is on cooldown just flank her if you guys are ahead and she will die basically every time.

Soraka

 Is the only reason why every single bot lane main hates this champion. She is very easily bursted so if you dont get caught in her , just  her and do the auto attack in between each ability until she dies or uses . As taric in this matchup you want to take  and you can burst her at level 6. Try not to engage on the enemy marksman unless she isnt there because she can just keep  and regenerating health.

Thresh

Thresh is a medium matchup because it is more dependent on how your ADC performs than most other matchups. If he 's her and 's if they dont have flash they are pretty much dead so just try to hang in there and stall early game. Thresh likes to roam after his first back so if he is seen elsewhere try to  the enemy marksman or just zone him by standing inbetween the enemy and your creeps. Late game just get  and you can out pressure thresh in teamfights with your  and  and .
I believe that Kalista is great with Taric due to Taric's one main disadvantage of not having a way to get to the enemy marksman. Kalistas 
 is great for that and good comboing with your 
. Also if you 
 -> AA, Kalistas 
 will proc. If you win early when she spikes, get 
 and continue to dominate. I would engage at lvl 2 and 3 which is when Kalista out damages and has a lot of kill pressure.
Caitlyn and Taric have great synergy due to them both having roots/stuns that can be easily paired with each other. Cait is also a safe laner due to her large range which makes it so the enemies have to come closer to you to attack her. 
 gives Caitlyn enough time to 
 which provides longer snare time and bonus damage due to her 
. It is also very easy to peel for her and stay by her due to her having long range and her movements being more predictable than others.
Jinx and Taric are a great pair. Jinx has long range, as well as great damage. If taric 
's and jinx 
's they will be rooted and allow for jinx to get a few auto attacks off, her 
 off, and her 
, which will have a lot of kill pressure on someone squishy paired with your ult, especially if she gets a crit off. Also Jinx is great at trading early which allows for Taric's semi weak lane phase to succeed.
Trist and Taric are a fear in the bot lane due to insane burst damage that Tristana has early game with her 
 and her 
. At level two-three, they have a very strong all in with 
 and 
. This will allow you to chunk pretty decently. This is also nothing compared to level six burst when both of them get their ultimates, its pretty much a guaranteed kill versus supports like 
 or marksmans like 
.
Marksmans That I Would Not Play With Taric Back to Top
Jhin is not an ADC i would play with Taric due to one things in his kit. His lack of mobility. Sure Taric's 
 synergizes well with Jhin due to allowing an easy 
, but if Jhin is ever out of position he is toast. Taric just isnt as forgiveable to play as 
 so he is better with more mobile ADC's or ADC's that atleast have gap closer. Maybe if Jhin recieves a buff this lane will be more potent due to kill potential but currently i just dont see it.
Varus does not mesh that well Taric as well. The only synergy they really have going is 
 helps Varus land all of his abilities. This is not that good because Taric is more of a caster, so Taric is better with supports that have hard peel like 
 or if you want to go aggressive 
.
Kog'maw is the last ADC that i will talk about that doesnt exactly work well with Taric. At lower elos people will have a hard time kiting with such high attack speed. This means that they will need to stand almost still inorder to maximize their damage. This is why Taric is not someone i would play with Kog'Maw. He needs strong disengage supports like 
, or supports that have amazing peel like 
. Even in higher elos, Kog'maw needs to be protected even more so i would not play Taric with him.
Early game you really just want to sit back, and wait for the enemy to misplay or wait for a gank, but what should you do late game?
Taric is best used as either a second source of engage or a peeling threat. Since target gives allies bonus damage with his 
, it is best that he stays near the carries. He can also shred the enemy front line's armor with 
, heal people with 
, and apply the aura to nearby targets if he is peeling with 
 or windspeakers blessing. Taric can also bait baron or force baron very easily because not only can he tank, and shred baron with his ultimate, but his ultimate will have around a 15-30 second cooldown if you use your 
 properly while fighting it. Taric is great at peeling with his lock on stun 
, and shouldnt be used to engage unless you have a man up advantage or you have 
 or 
 or someone else to peel for your team while you engage. His engage is not that strong so if you flash in make sure you have backup in range to follow up within 1.6 seconds which is the length of your stun.
Summoner Spells Cooldown's Back to Top
As a support player, timing summoner spells are very important for you to do. Not only does it help you remember when they come off of cooldown, but it also tells your jungler information that could help him gank your lane. I recommend that you use time stamps in your chat log. This puts the time in the game before whatever is typed and allows you to type something like "f Janna." This signifies that Janna used her flash, and if you are unable to type the timer atleast it notifies your team that she does not have an escape. I also recommend you type this for ultimate abilities. If you are busy and cannot type the time her summoner spell comes back up that is ok, just wait till you recall and than you can type it. Cool downs go as follows for normal summoner spells without the mastery to reduce cooldown, or distortion enchant.
- 5 minutes
- 3 minutes
- 5 minutes (4.5 second cast)
- 4 minutes
- 3 minutes 30 seconds
- 3 minutes 30 seconds
If you do not know if they are running the reduced cool down timer mastery just click tab, and hover over enemy summoner spells and it will give you the cooldown of the spell.
Early Game Warding Locations Back to Top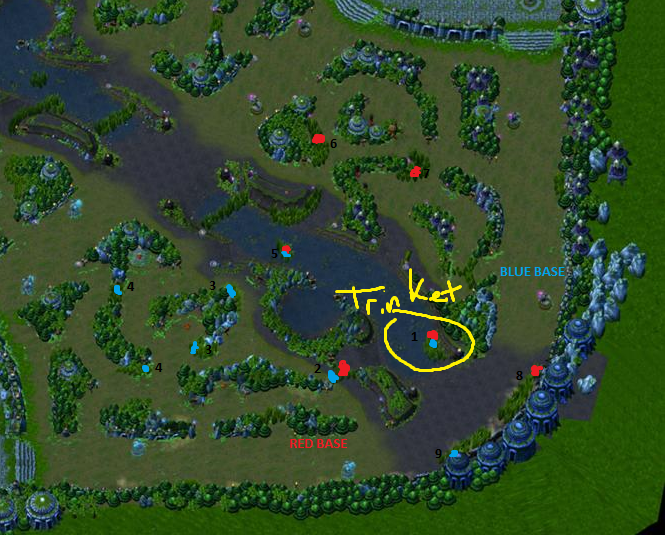 Blue Side Wards
1- Throughout laning phase, this is your go to ward to protect you from ganks. If you have no clue where the enemy jungler is throw a ward in this bush and you will be fairly safe from ganks. While this bush is warded you cannot extend towards the enemy tower because if the jungler comes, it will be too late for you to retreat
2- This ward is best paired with ward number 5, and is most commonly placed once you have sightstone. These two wards are very efficient. This ward helps you spot the enemy before they ganks after pathing from red or krugs. If 5 is warded as well, the only ways you can get ganked is if they use a gap closer over the dragon wall or through a lane gank, so watch out for that
3 and 4- These wards are what is known as deep warding the enemy jungle. The wards can be placed at any of the bushes by the bottom side camps. This allows for you to see the enemy jungler through his clears as well as where he is not. This provides valuable knowledge and if you see him leave for top side you can play more aggressive.
5- This ward is paired well with number 2 as stated earlier. It also helps out mid lane from being ganked from the bottom side of the map.
9- Place this ward to protect from lane ganks. This ward is also a good place for your top laner to teleport to if he is using that summoner spell.
Red Side Wards
1- Again like blue side this is your go to ward to protect you from early ganks. This bush is good to place if the lane is at a neutral point, but be careful pushing up if you have no idea where the enemy jungler is. Usually this is the main bush to ward, and if you are pushing hard, ward closer to dragon.
2- This ward is a defensive ward for you to place. Place this ward if your jungler is being invaded, or you have a feeling that the enemy mid laner will look to roam towards bottom lane.
5- Use this ward to protect your mid laner from the enemy jungler. Be careful placing this as your only river ward as they can path from blue to bottom lane without seeing you.
6 and 7- These wards are deepwards to track the enemy jungler. Place these wards if you get ahead to be able to invade and roam easily. This also provides valuable information to your team about where the enemy jungler is.
8- This ward is to protect you from lane ganks, as well as a good place to put a ward for a friendly teleport. 
Hi my name is Accels (I am Accels) and i am a highly ranked masters support player on the North American Server. My Stream is http://twitch.tv/accelslol. If you want to see some masters support gameplay and commentary, throw me a follow there to see when i will be going live. Also if you guys want any other guides for champs even if they arent on support let me know :).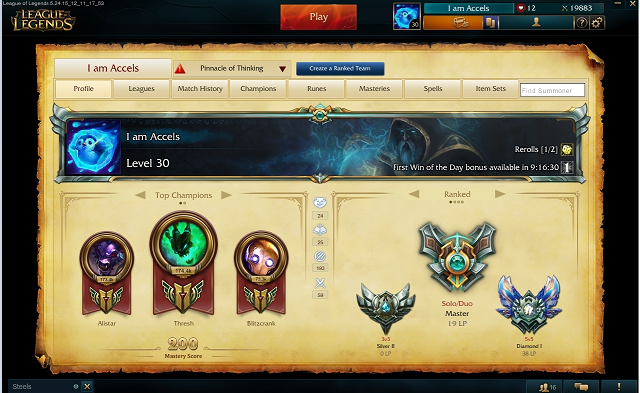 I have been playing League since season two, and taric is one of my favorite champs. I mained him throughout season 2 and three, and even play him sometimes now even though he isnt considered meta. Thanks for reading and good luck summoners!