You Can't Milk Those: Alistar Patch 6.10
Author Champion Statistics
Guide Details
Passive

1

4

5

7

9

2

8

10

12

13

3

14

15

17

18

6

11

16
Starting Items
Core Items
Situational Items

Champion
Difficulty
Notes

Ashe

Just stand in front of your team and block her , than cast . She has no escape so she is easy to flank and catch out when the support is roaming. If she ever does not have  take advantage of it and take extended trades and all ins by engaging with whatever combo you feel is correct, and in no time the lane should be over. Ashe is not meta because she lacks an escape, so if the enemy support is roaming just all in her to force summoner spells.

Bard

Bard is a hard matchup for alistar due to his ultimate, and his annoying poke early game. You can easily get caught out if you engage and than bard ults your backline so watch out for this. Make sure when you combo in or engage on him to not set yourself or your marksman for an easy and also take short trades by engaging, than quickly running into a bush so you do not take that much return damage.




In order to be successful in this lane you want to try to catch out either the marksman or bard himself when he goes to roam and pick up chimes. Also ping missing every single time he leaves lane so your team can play accordingly. 

Blitzcrank

Soak hooks for your marksman if needed, and once you are hooked you can  him and than  him in a position that allows your marksman to trade either onto him or the enemy marksman. Do not  him on top of your marksman. A lot of blitzcranks like to roam, so ping missing whenever he isnt in lane. If he is not in lane play further up (what i do is stand ahead of where the minions are fighting. This forces the enemy to trade 1v2 while Blitzcrank isnt there or miss a lot of farm. Late game make sure you are the one being hooked instead of a carry (of course dont soak unless you need too). Also try to save your spells if you get hooked so you can either use it to get back and peel for your marksman or force an engage on someone other than blitzcrank.

Braum

His passive is very hard for you to manage pre 6. He also makes it hard for you to trade on the enemy due to his . I recommend that you play passive in this lane and if he lands a on your ADC just  whoever the threat is away. Otherwise you guys have fairly even teamfights but your roam is a little better than his. While against braum, you should only roam if the creeps are close to your tower because he can easily pick off your adc by to a minion and your adc which slows her and ultimately will kill her.

Caitlyn

Her large range makes the early game a little bit difficult, but your  makes you quite strong against her. Make sure you block her , and soak 's when needed. Her attack range is quite large, this matchup is very dependent on supports, if the enemy has a squishy support engage on them, otherwise just engage on caitlin. Try to  her towards a wall to make follow up cc, and  easier.

Draven

 him away from his , or just combo him for all ins early game. Once he falls behind he cannot catch up easily and you can keep catching him out and shut him down in teamfights if you  him away or  him so he cant get to his axes.

Ezreal

Ezreal has very strong poke early game before you can get your first purchase of items in. I recommend if you have a strong all in marksman like  or  to fight him early on, like if you hit level 2 before them. Otherwise just try to stay behind minions or in an unwarded bush. Honestly this matchup is not at all bad as long as you do not die when the adc's both have a dorans blade. This matchup is not bad because ezreal is basically forced to go , which allows your ally to have a pretty good matchup against him with a hefty AD advantage. It is at this point where you can all in ezreal and win trades very easily. Late game ezreal has a short auto attack range so if he shifts in try to catch him out, otherwise hold your  and  to peel. The reason why this matchup is medium is he can  your  which has a long cooldown. If he does this you will lose the trade so combo when his  is on cooldown or  to engage.

Fiddlesticks

 counters fiddlesticks  as well as  counters his CC. If fiddle ults in simply  him away from your team. There is not much else to say, because this is a very easy matchup, just be careful for early ganks from fiddlesticks if he is jungle, and ward side bushes and places where you think he can engage on you from.

Graves

He is very short range, so you beat him easily since his auto attack range is basically the same range as your . Be careful for his  as the vision disruption is quite massive now. I recommend that you watch out for his high burst damage so if he 's toward you either just  him away or  first and than use your judgement to see whether you  him towards or away from your team.

Janna

Janna's  and  make it hard for you to engage. Her  also makes you trading against her difficult in lane. If you are in this matchup, just roam once your marksman is safe and after you ward to impact other lanes unless you guys are snowballing. You can also engage if her shield is down at any time. I find out that in order to really win vs Janna you should engage when her shield is on cooldown. Also she is easier to gank pre lvl 6 so call your jungler down if you think you have kill pressure. Be careful when you combo to engage versus janna because she can cancel your  with her  or  and if she does you do not want to waste your 

Jinx

Her range with is quite a lot. Make sure you body block her and watch out for her . Other than that, she has no escapes so she can be caught out easily, but her passive makes her hard to engage on if she gets a kill or assist.

Kalista

In this matchup, take  and she cannot leap away when you  her.   if you feel she is going to soon as well and she may waste it thinking it will kill you. Try not to take to many autos level 1-2 when you arent fighting because of the percent hp shred from . Also  if you feel she is going to rend soon. She will most likely you when she has enough stacks to kill you or your ADC, so  her away if the stacks are not on you, and if its on you just try to get away by  a minion or  her  than away.

Kennen

 him away from your team whenever he casts . All other aspects make this an easy matchup as well because even if you get stunned while his ultimate is casting just  and than  him away.

Leona

This matchup is good for alistar. If leona engages onto your marksman, you can simply  the enemy marksman away, or combo leona and make her get out of position. Either way it allows for a trade that you most likely will win. The only time you will lose in this matchup is if the junglers intervene so make sure you place a lot of wards to avoid this. Other than that if Leona's  is on cooldown you can engage on whoever you want to. Getting an early point in  in this matchup is good because it allows your marksman to take trades that you can heal them up after.

Lucian

He can your   so watch out for that. Make sure you are not near creeps for his , and use your  or  to cancel his . Careful for his level 2. If he engaged just  him away. Try to soak his when he casts it unless you are low.

Lulu

Lulu is a tad bit hard for alistar due to her poke which is annoying in lane phase, and the utility she provides with her shield, knock-up, polymorph, and slows. This matchup isnt that hard to deal with if you have a strong marksman, but her poke can be problematic. Take a few extra points in , and either roam if your marksman is safe, or trade onto the enemies. Watch out for lulu polymorph, because if she polymorphs your marksman and you go in you will lose the trade. Also she can cancel your  with  so make sure you dont waste your  cooldown if she knocks you up or  you.  Lulu is easy to gank with a  combo so i would encourage you to ask for a gank if you need it.

Miss Fortune

This matchup is great for Alistar because he is able to interrupt Miss Fortunes  with , or , and Alistar can engage on Miss Fortune quite easily with his combo as she has no gap closer or escape. If she is fed save your  for when she ults and use your  to peel.

Morgana

Morgana is a hard matchup for alistar due to her  lasting forever and her  being annoying to deal with. A good morgana is very hard to lane against and fight against late game. You can roam in this lane a decent amount, but make sure you put wards in the bushes in lane so your marksman has less chance of being snared. You should only roam if you have kill pressure in other lanes, or if your marksman can safely farm because if you roam as Alistar vs Morgana, she will just flash on your marksman and than it is a guaranteed kill or flash. Take trades early game and try to engage when  is on cooldown. Late game try to  her away when she , but it requires  to be off of her so watch the cooldown and damage you are putting out onto her.

Sivir

This matchup is hard for alistar because she can spell shield both  at the same time with one . I recommend that you pause in between both abilities, or try to engage when her  is on cooldown (it is quite lengthy). She cant really react to   with her  so thats how i would engage on her. Make sure you  her quickly so she does not have enough time to .

Soraka

Soraka is a great lane for alistar because if your  is up and your jungler is bot lane you can just combo or  combo soraka and she is basically dead. Her  is obnoxious though so be careful if you want to hard engage because it could turn a teamfight poorly. Take  in this matchup, and get a point in  early on. Trading is basically pointless unless it is damage onto the soraka. So watch out for taking bad trades and try to focus her in teamfights.

Taric

Gems cant hurt the cow. This matchup is great for alistar because if taric stuns your adc you can do a few things, you can  the enemy marksman away, and than walk back and  taric (you can also do this in reverse order as taric will not be able to get to your marksman this way) you can also combo either taric or the enemy marksman, which will than cause your marksman to trade with you after the stun duration. Watch out for tarics burst at level 6.

Thresh

This is a skill matchup for the supports. I believe that it is slightly more favorable for the alistar. Watch out for his and try to make sure he does not your . One trick i found is that it is insanely easy to block his all by yourself. You will learn where to stand after a while of playing this matchup. 




I would have put this matchup as easy, but one reason why i marked it as medium is because it is hard to roam against thresh due to his catch potential on your marksman. He also roams extremely well as well so a 2v2 with you guys both roaming may be extremely difficult.

Tristana

This matchup is quite annoying, as it is very hard to cancel tristana's  with your  unless you channel your  from directly behind her. I recommend you combo her against a wall, and trade damage before she has time to . She can also use her  in the middle of your combo if timed correctly.

Twitch

In teamfights, i recommend trying to  combo him into your team. He is a fairly easy matchup since he has no escapes, and has a very short range throughout the early game and without his , so take advantage of that. Carry a  if you feel you have kill pressure and put that down if he goes invisible when he is low. He has no gap closers or escapes so this matchup is pretty easy.

Vayne

Her  shreds you when you , as well as her  and  make it hard to stick onto her. Make sure you carry a  for when she ults in teamfights. Just pop it down so your team has vision of her. Dont stay in the bushes in lane unless they arent warded because her  can seriously turn the tide of laning phase. Also try to punish her on mistakes by  her if she  towards your team. Just be careful because she can  your  and than you will not have enough stick potential to get her and lose the trade.

Zilean

Time can't stop the cow's moo. Literally free lvl 1-5 and than lvl 6 you out roam him and he has little kill pressure on a mobile adc. Also if he ever 's your marksman twice combo the enemy marksman, or just  him away and you can either trade when the stun is over or prevent a lot of damage. Try to not kill the target when they are , but if they are doing damage to your team just kill him and  him when he respawns. 

Zyra

Dodge roots and otherwise she is super squishy making it an easy lane. Combo zyra on cooldown and if your marksman follows you up it should be easy kills. Watch out for as it does a lot of damage. Her is very disruptive as well so i would watch out for this as well. Take windspeakers blessing in this lane to give your allies magic resist. Also get a  not only for the aura, but for the shield as well. In this match up get distortion boots semi early on which will allow you to keep flashing onto her or anyone else to get kills. If your marksman has an escape you can easily out roam her and apply pressure elsewhere.
Alistar can be played with every marksman fairly well, but my favorite marksmans to have duo with me are 
.
- Alistar and Jinx have a great synergy due to their ability to react to each other with ease. If Alistar 
 combos into the other team, it allows jinx to land a fairly easy
into
for a lot of burst damage. She can also fire a lot of autos from a safe distance due to her
. This lane has a lot of kill pressure, and if you get a lead it is very easy to carry the game.
- If you are playing Alistar, having a great Vayne on your team is a luxury. The amount of kill pressure you have at level three is good as well as the late game potential that Vayne brings to the table. A competent Alistar is just what a vayne needs to go on a rampage and carry the team. Also if you are Alistar, try to position the enemies near a wall with 
 for Vayne to follow up with 
 for a lot of damage. Take short trades with Vayne, this means 
 in, auto once or twice, and peel back after Vayne procs her 
. 
- Another great champion to play with Alistar is Miss Fortune due to her heavy damage early game with 
. All it takes is one to two critical strike procs of 
 for you to  
 in when her cooldowns are up to force summoner spells, or get a kill. Make sure you peel for her though as she has no gap closers and escapes besides her movement speed increase.
- The last champion that is a pleasure to play with as Alistar is Tristana. Tristana has one of the strongest level 2-3 out of any Marksman, and if Alistar  
 combos in, it allows Tristana to get easy stacks on her 
. This is another snowbally lane, but it is very all in if Tristana 
 in, so if she does make sure to not abandon her.
- Kalista is the last champion that i like laning with as Alistar. She does a lot of damage early game with stacks of
, so if you engage on a target you have a high chance of getting a lot of poke down on the target. Also Kalista is great for Alistar due to
. Her ultimate allowed for Alistar to engage onto a target, 
 them and than 
 them back into your team. Her
is also great to chain after your combo for more CC, as well as a great escape ability especially if you have no CD's up. Be careful if you are going to get ulted so you dont waste time on your 
. Either use it when you definitly arent going to be ulted, or after you have been ulted unless it is a desperate occasion.
Alistar Spell Combinations Back to Top
Alistar W-Q Combo
 - To do this combination press w, and as you approach the enemy near contact press q. It will take a little practice, and sometimes they will fly back but take damage from both abilities. Just practice and you will get the timing down after a little while. 
Alistar Q-Flash Combo
 - To do this combination press 
, and immediatly after pressing 
 you 
 where you want to knock up someone. This will basically instantly knockup whoever is around your hitbox after you 
. Practice makes perfect with this combinations. If you are not confident with this combo, you can do it in reverse order, 
, but it allows for more of a reaction because after you flash on them it is a little delayed.
What to do at specific parts of the game Back to Top
Early game sit back and 
 from the brush or onto the marksman to provide harass with your marksman. 
Once you buy mobility boots try to gank a lane before returning back to bottom lane as long as your marksman can freeze, lane 1v2 for a little, or farm safely due to you placing wards.
If your jungler comes to gank, 
 onto whoever you want to kill, and than 
 them back into your team for a free kill/summoner spell usage. 
Try to stand in the brush in laning phase if it isnt warded. This will proivde more pressure for the enemy marksman to farm because he will be unsure of your location and worried about you engaging onto him. 
Late game, if your team has another source of engage just sit back and peel. If not i recommend you use either if your combos to engage, and than immediately run back to your carries to provide actives and peel when your second round of spells is up again. Ult if you are taking a lot of damage, or need to CC break for an important engage/getaway.   
Good places to ward for early game is in the river bush by bot lane, bot lane tri-bush, and mid lane river bush closer to dragon. I usually like to place my pinks in a more defensive location unless i am ahead. The pink wards i place usually go in the lane bush closer to my tower (this provides easier ganks for your jungler), in the river bush closer to bot lane, or closer to mid lane.
Ultimate Usage: Use your ult as a tool to CC break only if you are in danger, or your allies are in danger and you can peel for them. If you cant provide them help just soak the CC and save your ultimate for a later time. Also you can use your ultimate for damage absorption. If you combo into them to engage, you are most likely going to take a lot of damage. If you can predict the damage coming, ult and either run away or keep fighting. Another usage for your ult (and this should only be used for laning phase) is once you and your marksman decide to all in, pop your ultimate after you engage and auto the enemy marksman. Your ult provides a lot of ad, so you will be doing more damage than maybe even your own marksman as well as staying healthy. A lot of people underestimate the AD bonus from Alistars
. It basically is a 
 sword, and you do immense damage to a level 6 enemy. If you have any questions just throw them in the comments below and they will be answered. Thanks for reading my guide!
Also if your going to die and can flash away, dont hold onto your flash thinking you have a chance of living. Dont be stingy with your flash and just use it. It has a 5 minute cool down for a reason. Use it to avoid dying.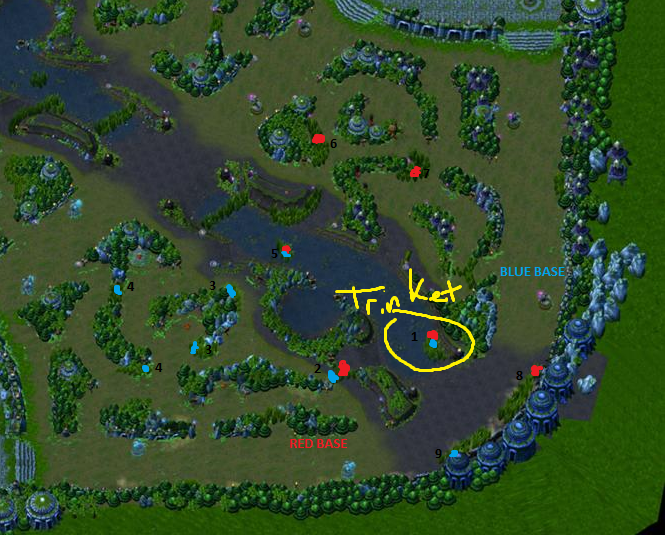 Blue Side Wards
1- Throughout laning phase, this is your go to ward to protect you from ganks. If you have no clue where the enemy jungler is throw a ward in this bush and you will be fairly safe from ganks. While this bush is warded you cannot extend towards the enemy tower because if the jungler comes, it will be too late for you to retreat
2- This ward is best paired with ward number 5, and is most commonly placed once you have sightstone. These two wards are very efficient. This ward helps you spot the enemy before they ganks after pathing from red or krugs. If 5 is warded as well, the only ways you can get ganked is if they use a gap closer over the dragon wall or through a lane gank, so watch out for that
3 and 4- These wards are what is known as deep warding the enemy jungle. The wards can be placed at any of the bushes by the bottom side camps. This allows for you to see the enemy jungler through his clears as well as where he is not. This provides valuable knowledge and if you see him leave for top side you can play more aggressive.
5- This ward is paired well with number 2 as stated earlier. It also helps out mid lane from being ganked from the bottom side of the map.
9- Place this ward to protect from lane ganks. This ward is also a good place for your top laner to teleport to if he is using that summoner spell.
Red Side Wards
1- Again like blue side this is your go to ward to protect you from early ganks. This bush is good to place if the lane is at a neutral point, but be careful pushing up if you have no idea where the enemy jungler is. Usually this is the main bush to ward, and if you are pushing hard, ward closer to dragon.
2- This ward is a defensive ward for you to place. Place this ward if your jungler is being invaded, or you have a feeling that the enemy mid laner will look to roam towards bottom lane.
5- Use this ward to protect your mid laner from the enemy jungler. Be careful placing this as your only river ward as they can path from blue to bottom lane without seeing you.
6 and 7- These wards are deepwards to track the enemy jungler. Place these wards if you get ahead to be able to invade and roam easily. This also provides valuable information to your team about where the enemy jungler is.
8- This ward is to protect you from lane ganks, as well as a good place to put a ward for a friendly teleport. 
Summoner Spells Cooldowns Back to Top
As a support player, timing summoner spells are very important for you to do. Not only does it help you remember when they come off of cooldown, but it also tells your jungler information that could help him gank your lane. I recommend that you use time stamps in your chat log. This puts the time in the game before whatever is typed and allows you to type something like "f Janna." This signifies that Janna used her flash, and if you are unable to type the timer atleast it notifies your team that she does not have an escape. I also recommend you type this for ultimate abilities. If you are busy and cannot type the time her summoner spell comes back up that is ok, just wait till you recall and than you can type it. Cool downs go as follows for normal summoner spells without the mastery to reduce cooldown, or distortion enchant.
- 5 minutes
- 3 minutes
- 5 minutes (takes 4.5 seconds to cast)
- 4 minutes
- 3 minutes 30 seconds
- 3 minutes 30 seconds
If you do not know if they are running the reduced cool down timer mastery just click tab, and hover over enemy summoner spells and it will give you the cooldown of the spell.
Hi my name is Accels (I am Accels) and i am a highly ranked masters support player on the North American Server. Over the next week, i will be building a computer and than will stream daily at http://twitch.tv/accelslol . If you want to see some masters support gameplay and commentary, throw me a follow there to see when i will be going live.
I am experienced as alistar with over 200 games on him this season and over a 60% win rate.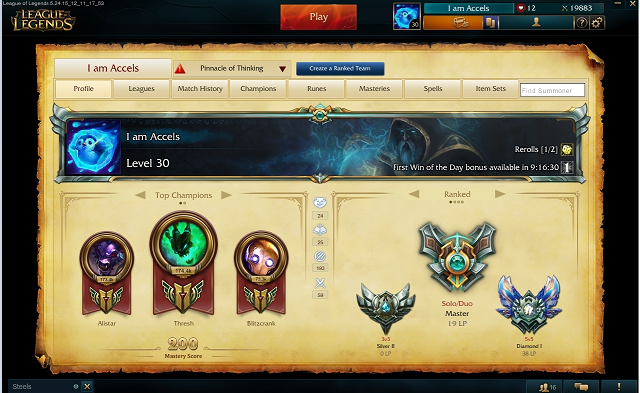 I am currently the best alistar in North America according to lolskill.net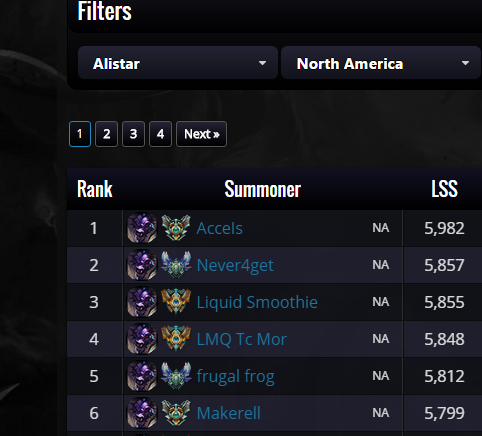 I am also the 6th best alistar in NA according to na.op.gg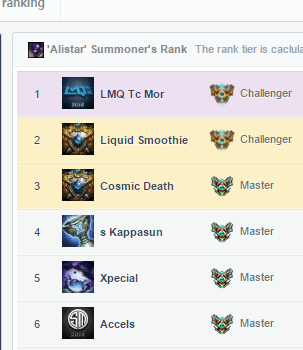 I have been playing League since season two, and alistar is one of my favorite champs. This is my first guide so i hope you guys go easy on me, and i hope you guys enjoy. Thanks for reading and good luck summoners!